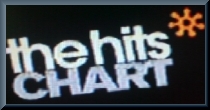 The Hits Chart is a week-daily chart on The Hits, based on the 10 biggest videos being played right now on The Hits. It is also known as The Hits Chart: Today's 10 Biggest.
Before being taken over by Channel 4, The chart was named The Hits Chart: Today's Most Selected and in late 2007, renamed The Hits Chart: Today's Most Requested. Another difference is that the chart used to based on viewer's selections, which were counted for the week-daily chart for broadcasting at 12:15 (also shown at 17:15) to find out the 10 most selected videos; but after the chart changed to Today's 10 Biggest, the videos shown were instead based on what songs the staff predicted were going to be the most successful in the Official UK Top 40.
The last Hits Chart was broadcast on Wednesday 13th August 2008 at 12:15 and 17:15.
Click here to see the last ever Hits Chart top ten
Current (and last) No.1 on The Hits Chart
Edit